Flag Cake of course! My mom would make it with a double layer vanilla sheet cake with strawberries in the icing in between the layers, with they typical blueberries for stars and strawberry slices for stripes. It just isn't a Fourth of July party without one of these. It would usually come out looking something like this: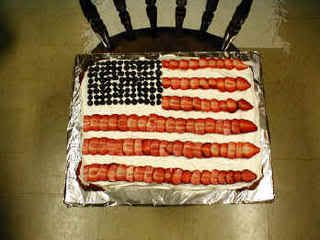 But this is uglysheetcake.com, not prettysheetcake.com, so here is a terrible effort I found while browsing:
How about caring just a little? You might as well go ahead and take a crap on a flag and burn it.