It reminds me of college! How nice....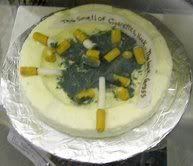 It also reminds me of how my mouth tasted for a month after our Massacre trip to Bumbershoot. Ick. Thanks Shattered for the Sub.
I'm also going to toss this in because it's cake-related and I have a soft spot in my heart for hammies & such.