Okay, so I'm sitting alone in my house and I'm watching Nightmare on Elm Street (part two?) and I'm realizing that even though my childhood was traumatised by these films, along with the Jason movies I've never actually seen one until tonight. (I know, I was such a loser back then) And man is this film friggin terrible. I used to be absolutely 100% convinced that Freddie was in my closet, and now that I'm watching this for the first time I can't believe I was ever afraid. I mean this movie has a room-cleaning montage in it. This also made me instantly think of the plethora of Freddie cakes that must have been made and how I can't possibly let Halloween go by without posting about all of the terrible cakes that are out there! So please, you know you have those old pictures somewhere. They don't have to be Freddy cakes! Just any terrible Halloween cake.
Like this one, submitted by reader Sarah-Louise, who found this cute/bad cake in Amy Sedaris' book "I Like You" and I dare you not to be all like "awwwwwwwws".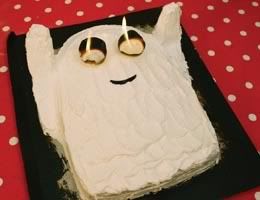 ANDPLEASEOMIGODOMIGODDIDINOTJUSTFINDTHIS.... FREDDIE MERCURY CAKE in my search for Freddie cakes... that is gold.